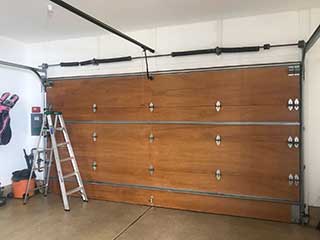 Over the course of time, even the best garage door is subject to normal wear and tear. While quality garage doors are built to be durable, it is still important that they receive regular maintenance. Performing regular garage door maintenance will help to ensure your garage door can run at its maximum level of performance. Though natural wear and tear occurs over time, there are still many steps that you, as a homeowner, can take to ensure your door's well-being. If you find that you are not comfortable with making general maintenance, you can contact our garage door maintenance service in Bountiful to keep your garage door running smoothly.
Inspect Weather Stripping
Every time garage doors open and shut, their track rubs against the weather stripping. To inspect the weather stripping, be sure to check the sides and the bottom seal for any cracking, tears, or thinned areas that may indicate wear in the weather stripping. It is especially important that the bottom seal is intact. When it rains or snows, having a proper seal will help protect your cars, bikes, and other items from the weather.
Lubrication
Another area of garage doors that will require maintenance from time to time is the machinery and mechanisms, which require proper lubrication to run smoothly. To properly lubricate the garage door, use a penetrating or citrus-based solvent. This solvent should be applied to any latches, rollers, roller tracks, latches, pulleys, and bearings. If, while applying lubricant, you notice any rust or corrosion, it may be time to consider repair. Oftentimes, the corroded part will need to be replaced in a timely fashion, to prevent spreading of the corrosion and further damage to the door.
Touch Up the Paint
A third area that occasional requires periodic maintenance is the paint. Whether you have aluminum, wood, or steel garage door, it is probably stained or painted to add to its appeal. To some, this may not seem as though the paint should be considered maintenance. To a homeowner, however, the garage door is probably the largest working part of their home. It also makes a significant statement as far as visual appeal, and adds to the value of the home. Additionally, when garage doors have a proper coat of paint, it can help protect the metal, wood, or steel of the door from the elements.
Professional Maintenance
Not everyone is capable of or comfortable performing garage door maintenance. These individuals often seek out professional help to service their door for them. By making this decision, door owners are acting responsibly for their care of their home. Trained maintenance workers are better able to spot troublesome door areas, including corrosion, fraying cables, and more. They will also have the best resources if your garage door is not functioning at its highest performance.
When it comes to your door, we don't settle! We also offer:

Oil Tempered Torsion Springs

Residential Garage Door Repair

Screw Drive Opener Replacement

Roll up Garage Door Maintenance