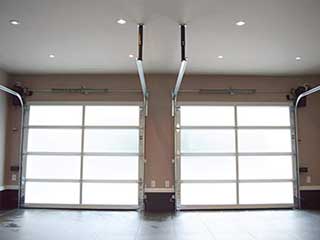 The work of the garage door springs is not difficult to understand. They make it possible for the door to move up and down by counterbalancing its weight. Basically, their job is to prevent it from falling. They are loaded with a great amount of force, which can be extremely dangerous when released accidently. Most residential systems at present use torsion overhead door springs, but there are also ones which have two extension ones on the side. Even though there are design and operation differences between the two types, they do the same kind of work. In case of operation issues, we are readily available to provide fast, effective and reliable resolution.
Achieving Superb Results
We have the perfect resolution for any sort of issue affecting these system components. Our torsion and extension springs repair services are all-encompassing. If you notice even the slightest change in the operation of the system, you need to get in touch with us and we will take care of everything for you. Keep in mind that smaller problems have more cost-effective resolution compared to bigger ones. More importantly, further issues are prevented and the risk of an accident is reduced to the possible minimum. You can rely on us, at Garage Door Repair Bountiful, to give you all of these benefits and more.
Top Garage Door Spring Replacement
One of our most widely used services is garage door torsion spring replacement. Given the huge amount of work these components do, they can perform a fixed number of cycles only. In case of breakage, you just need to get in touch with us and stay away from the door. We will come and provide replacement without delay. Our emergency garage door repair service is readily available to get you out of trouble at any time. We are fully prepared for providing replacement on the spot. Our technicians are highly skilled and experienced. We have spare parts for all major door brands from Clopay to Amarr and Martin in stock.
Spring Maintenace Services
Our service range includes professional door maintenance. As part of this service, we provide complete care to each and every component including the torsion and extension garage door springs. We run full inspection for damage and wear and tear. We provide fast repair or replacement, if required. We perform balance tests and make adjustments, if required. We are experts in rust removal and lubrication maintenance. We give you safety, convenience and peace of mind. Send us an email to receive individual information about our services.
In addition, count on us for:

Opener Clicker Repair

Overhead Door Installation

Part Replacement & Repair

Extension Spring Adjustment