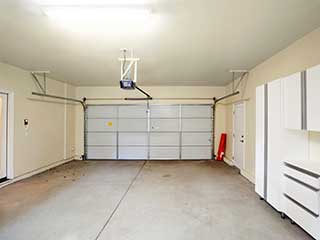 Several years in the garage door industry has given Garage Door Repair Bountiful great insight, skill and expertise in dealing with various types of situations. From repairs to garage door opener system installation, we've seen them all. While we are adept and competent with various kinds of door opener brands, we are experts when it comes to Liftmaster and Genie brands, because they are the manufacturers we use when we do installations.
We have chosen these two brands because we believe they give our clients the best value for their money. However, no garage door opener system is perfect, and even Liftmaster and Genie systems will experience hiccups every now and then, especially if they are not cared for correctly. Here is a brief overview on the common calls we get from our clients and the services we offer.
Common Liftmaster Problems
The most common problem we get when it comes to Liftmaster is when the opener does not run, although the motor is humming. The humming of the motor means there is no power interruption, and most of the time the problem is with one of the motor parts. We offer repairs and replacements for defective motors that refuse to run correctly, or run at all. Motor parts like bearings, wiring, and the capacitor are susceptible to wear and tear and can malfunction when they're overheating. Sometimes, all it takes is small adjustments on the trolley limits. If the problem is overheating because of hot climate, we usually suggest changing to an opener built specifically to withstand high temperatures.
Most Liftmaster problems we encounter are centered on the multi-function control panel. Sometimes the push bar sticks out, or the staples cut into the bell wires, impairing their function. Non-functional openers can also be attributed to a defective logic board. This usually happens when opener systems are overused. We replace faulty parts and recommend disconnecting the opener system if it is only used rarely.
Common Genie problems
Genie is known for its advanced technology. Sometimes though, this new technology also means more things to maintain and care for. We usually advice clients to read the manual, as advanced systems need more attention and maintenance. We offer manual overrides of the Intellicode system in case of a garage door lockout and the reprogramming of the transmitter.
We get several calls from clients using the latest line of Genie openers, asking for assistance with readjusting and setting limits. Limits are the set distance by which a door closes or opens before stopping, and improper input of limits mean a door will not to close or open fully or properly.
While there are instructions on the Genie manual on how to reset the limits, we recommend our clients call us so that the limits are set correctly, preventing further problems.